Readings
Spelling Bee



The Three Hares
The Three Hares is a circular motif found at sacred sites from China to England. It consists of three hares chasing each other in a circle. Used as early as the 6th century in Chinese cave temples, the symbol appears to have spread along trade routes. It appears in architecture and on headstones and in Jewish, Islamic, Buddhist, and Christian art. It is a perceptual puzzle in that, although each rabbit has two ears, the total number of ears pictured is only three. How is this illusion achieved? More... Discuss

Sesame Street Premiers (1969)
Today, Sesame Street is an American institution. However, at the time of its debut, the show was revolutionary. Developed by the Children's Television Workshop, Sesame Street was the first educational children's show to base its content on laboratory research. Much of that research went into determining what would capture the attention spans of young viewers, and Muppets—such as Elmo and Oscar the Grouch—were found to be particularly effective. Which US state once banned the show? More... Discuss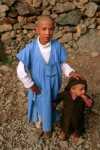 Weighty Issues Weigh on Kids' Minds
Kids have more on their minds than many give them credit for. A poll of children, ages 10 to 12, from around the globe revealed that education, basic needs, and the environment are their top concerns. In emerging nations, youngsters said that, given the power, they would improve education, followed by access to food, clothing, and shelter. Kids in developed nations listed food, clothing, and shelter as their top priority. In both developing and developed countries, the greatest environmental concern among kids polled was pollution, but those from developing countries were nearly as concerned aboutnatural disasters too. More ... Discuss

Carhenge
Built in western Nebraska in 1987, Carhenge is a replica of England's Stonehenge—made of vintage American cars instead of stones. The 38 cars that make up the monument are painted gray, closely matching the current, deteriorated condition of Stonehenge. Some are embedded in the earth standing on end, with others welded on top of them to form arches. Today, there is a visitor's center at the site, and Carhenge has even been featured on television and in film. It was created as a memorial to whom? More... Discuss


Agatha Christie's The MousetrapBegins Its Record-Breaking Run (25.11.1952)
When The Mousetrap opened in London, Christie, a legendary mystery author, predicted her play would run for just eight months. However, its initial run never ended, and it is now the longest-running play in the world. The murder mystery has been performed more than 24,000 times and is a popular tourist attraction. At the end of each performance, the audience is asked not to reveal the play's notorious twist ending. Who owns the rights to the play, and how did he get them? More... Discuss
In the News


Family Dinners Good for Kids' Diets
In our increasingly technological age, it is becoming harder and harder to make sitting down for family dinners a priority, but we really should make every effort to do so. Eating together as a family just once or twice a week is enough to have a positive impact on a child's eating habits. In a recent study, kids from families that always ate family dinners together were found to eat the recommended five servings of fruits and vegetables a day, while those from families that sometimes ate together came close, eating 4.6 servings. Those whose families never dined together consumed only 3.3 portions of fruits and vegetables each day. More ... Discuss
Article of the Day


Ley Lines
Ley lines are straight lines that can be drawn between ancient landmarks and monuments around the globe. Some believe the lines emit mystical energy, especially at their intersections, and their magical properties have been featured in novels such as Thomas Pynchon's Mason & Dixon. Amateur British archaeologist Alfred Watkins is most closely associated with ley lines, but he never ascribed any supernatural qualities to them. Instead, he believed they were remnants of what? More...
In the News


Can You Say This Ten Times Fast?
Forget "she sells seashells by the seashore"; if you want a challenge, try saying "pad kid poured curd pulled cold" ten times in rapid succession. US psychologists say this nonsensical series of words they developed may be the world's toughest tongue twister. Do not mistake these researchers for sadists, though. Their prime motivation was not to paralyze people's tongues and drive them to distraction but rather to shed light on the chain of events that occurs between the time a person has a thought and the moment he moves his mouth to form the sound. More ... Discuss
World's Most Expensive Chocolate Bar
Wispa Gold chocolate which is wrapped in an edible golden wrapper and has a net worth of $1,628.
Cadbury has revitalized the Wispa Gold to enter the record books as the most expensive chocolate bar in the world. Wrapped in edible gold leaf and sheathed in a gold leaf wrapper, the special edition (55p) of the yummy chocolate will be delivered by none other than Tony Hadley, the singer with Spandau Ballet whose biggest hit was "Gold," at Selfridges in London. Priced at £961.48 ($1,628),

Destroy Lamborghini Gallardo

A team of sledgehammer-wielding men in China pulverized a new Lamborghini Gallardo with the owner's permission, because he was fed up with a mechanic who repeatedly failed to fix an engine problem. The destruction of this pricey Italian sports car was meant to recognize World Consumer Rights Day.

Pipe Hotel
Located in Ottensheim, Austria, the offbeat hotel offers three 10-ton segments of drainage pipe, each 6.5 feet in diameter for you to stay in.
Bubble Hotel France

Pierre Stephane Dumas unveiled his line of room-sized, transparent bubbles that allow people to sleep with almost nothing blocking their view of nature
not many people are going to be able to afford the €7766 (US$10,987) price tag just to buy one for their weekend camping trip
the Attrap'Rêves hotel has recently opened in France to offer visitors a range of fully-furnished bubbles

Public Booths in Japan
Public phones are outdated due to cellular phones so the phone booths were converted to Aquariums in Osaka, Japan.

Hozzászólások
Hozzászólások megtekintése